It's nearly 50 years since Steve McQueen went to the 24 hours of Le Mans to film a motion picture about the greatest and longest race in the world. The production of the film was extremely dangerous, over-budget and behind schedule, and the final product bombed at the box office, but 1971's Le Mans is today recognised as a groundbreaking cult film amongst motorsport fans, especially for the commitment to realism in it's breathtaking racing sequences. Now James Mangold directs a new film about the same prestigious French motor-race which takes a look at the careers and lives of endurance racers Carroll Shelby and Ken Miles, and presents a niche subject matter in an accessible and thrilling way.
Carroll Shelby (Matt Damon) was one of the few Americans in the history of Le Mans to win in 1959, but had to quit racing soon afterwards when he was diagnosed with a serious heart condition. In the 1960's Shelby set up his own car design and racing team, Shelby Automotive, and hired Birmingham-born expat Ken Miles, (Christian Bale) as a driver. Miles gives reliable and detailed feedback about a car's handling and is a proven winner on track, but quickly develops a reputation for unleashing his acid tongue and foul temper upon anyone who gets on his bad side, including Shelby, who is nevertheless able to get the best out of him. Meanwhile Henry Ford II, (Tracey Letts), fed up of poor sales of his automobiles, decides to boost the Ford brand by beating the dominant Scuderia Ferrari at the Le Mans 24 hours. To this end Ford recruits Shelby, the last man to beat Ferrari at Le Mans, to develop, test and race their car, the Ford GT40.
Early in the film Shelby convinces a customer to buy one of his AC Cobras, before realising that he has already sold the same exact same car to multiple celebrities, including (appropriately enough) Steve McQueen himself. It's a good example of Shelby as a wheeler/dealer type; someone who takes his racing very seriously but is also very laid back, and not above an underhand practical joke or two, such as placing a loose metal nut next to a bunch of mechanics and watching them mistakenly panic that their car is falling apart. Damon nails Shelby's distinctive Texan drawl, portraying him as a likeable, world-weary but cunning figure battling to succeed in spite of the commercial demands and stifling bureaucracy of Ford.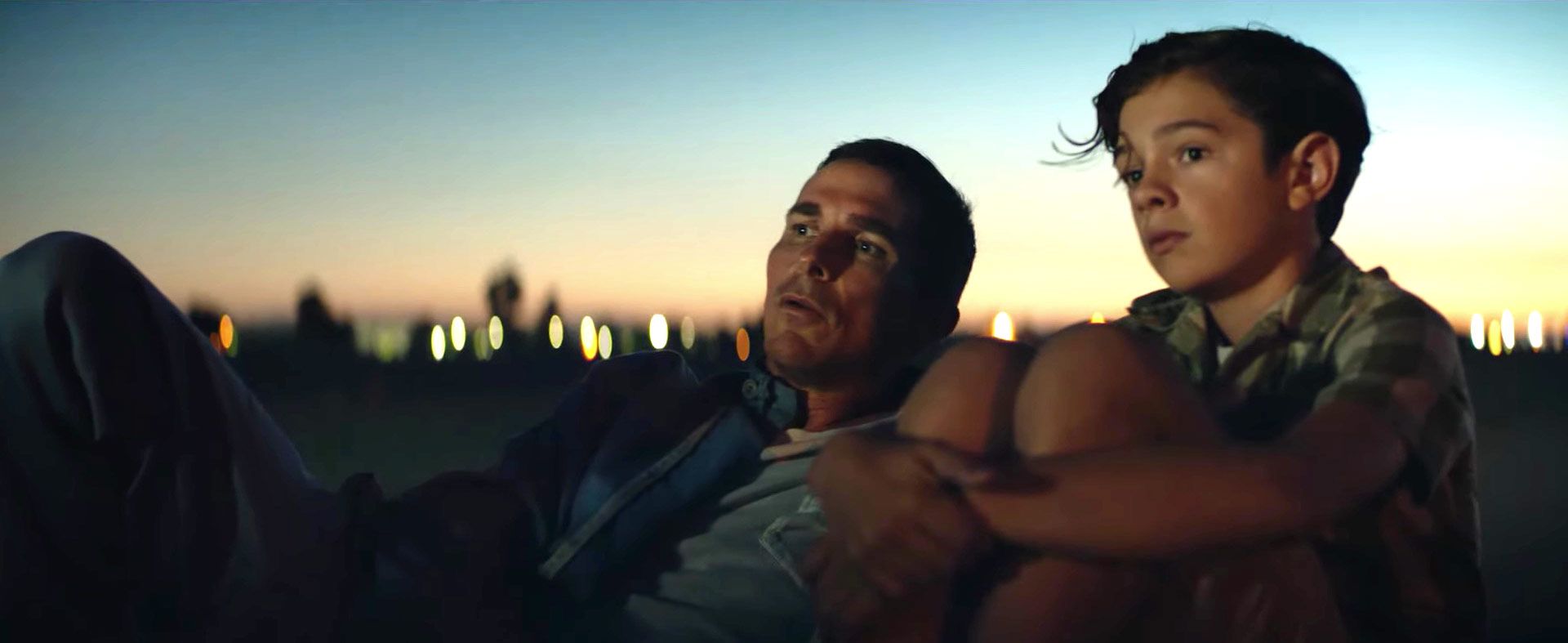 Whilst the film opts to entirely omit Shelby's messy personal life, Ken Miles' family on the other hand do feature, essentially providing the emotional core of the film. His wife Molly (Caitriona Balfe) and son Peter (Noah Jupe) are both supportive towards Ken, but at the same time struggle to come to terms with the inherent dangers of his chosen sport. Balfe gives a great performance as the capable stay-at-home mum who matches her husband in terms of blunt honesty, whilst Ken's scenes with his motorsport-obsessed son are especially touching and poignant, given that quotes from interviews with the real-life Miles are repurposed as he educates Peter (and the audience) about his approach to racing. Bale puts in a very strong leading performance which allows us to easily empathise with a stubborn but dedicated racer who never hesitates to speak his mind, (This is the first and only movie in which you will hear Christian Bale utter the word "pillock", which he does with fabulous scorn) and as expected his chemistry with Damon is excellent as sparks fly between the two.
You would naturally expect the corporate politics of the Ford motor company to be the least interesting part of the film, but strong direction by Mangold and star supporting performances by Tracey Letts as Henry Ford II (Or as Shelby calls him: "The Deuce") and Jon Bernthal as crafty Ford executive Lee Iacocca definitely elevate these sections of the film. The early scene where Iacocca travels to Maranello to meet Enzo Ferrari (Remo Girone) is particularly memorable and entertaining, as Ferrari's iconic founder does not suffer fools gladly. Going in I was concerned that Ferrari would be turned into a villainous caricature, and was pleasantly surprised by the relatively dignified, proud and intelligent portrayal of Enzo, despite his limited screen-time.
However, the film instead casts Henry Ford II's right hand man Leo Beebe (Josh Lucas) as the one-dimensional, loathsome antagonist who thwarts Shelby and Miles at every turn. This is to the film's overall detriment as it often makes him feel like a pantomime villain; he is the only real life figure in the film who I feel is completely denigrated by his broad-strokes depiction here, when a more nuanced characterisation could have made for a more interesting critique of Miles and the lack of respect he had for team orders. Lucas is great at getting you to hate Beebe though, which is most definitely the film's intention. 
The main highlights of the film are definitely the racing sequences, in particular the climactic final act at Le Mans, which is gripping all the way through, as the circuit itself becomes a figurative character in the narrative; 5-time Le Mans winner Jacky Ickx once famously said: "You cannot win Le Mans; Le Mans lets you win.", and nowhere is that truer than here, as Miles and the GT40 are tested to their very limits, and beyond.
There's some great attention to period details, from the era-accurate recreation of the circuits at Daytona and Le Mans, down to the period model racing car kits that adorn Peter Miles' childhood bedroom. Eagle-eyed motorsport fans will recognise Top Gear's Stig Ben Collins in a short-but-sweet cameo as Miles' Kiwi teammate Denny Hulme, as well as Miles' friend and fellow racer Dan Gurney being played by his son Alex. I also appreciated the small role of British car designer Eric Broadley (Julian Miller) as the original designer of the GT40 prototype who helps Miles and Shelby during the car's development; given that the film is a thoroughly American production there is an inevitable element of the USA patting itself on the back, it's good that the significant contributions of Brits like Miles and Broadley are left intact, as this prevents things from getting overly jingoistic.
As a motorsport fan familiar with the real life story, there are some minor factual errors in the script that niggled at me, and the film turns Beebe into a villain when I think it didn't really need to; Rush (2013) is an example of another great motorsport biopic that avoided this trope, and was all the better for it. But Le Mans '66 is still a very thrilling, humorous and entertaining ride; I think it's an effective entry-level crowdpleaser if you know nothing about the Ford/Ferrari rivalry, or even motorsport in general. If you are a fan of F1 or the World Endurance Championship though then there are some really nice details and references that you will appreciate from the sport's past. On a final note it's also nice to see a relatively unsung hero of motorsport in the form of Ken Miles finally get the widespread recognition that he deserves.
I saw Le Mans '66 at the London Film Festival last week, but it goes on general release in the UK and US on November 15th, and is rated 12A by the BBFC.